2023 Ozark LMSC Short Course Meters Championship Meet Entry Form
Below is the entry form for the 2023 Ozark LMSC SCM Championship Meet meet held Saturday, December 9, 2023 at Chuck Fruit Aquatic Center in Edwardsville, IL. Please read through the entire entry form including Meet Information and Waiver, as you must indicate acceptance of the USMS liability waiver prior to registering.
Meet Information & Waiver (click here) read before registering
2023 One Event Registration Form & Waiver (for meet entry for non-USMS members) – OEVT Form

How to pay the meet fee via PayPal as a Guest without having or making an Account
Scroll down below "Pay with PayPal" and click "Pay with Debit or Credit Card"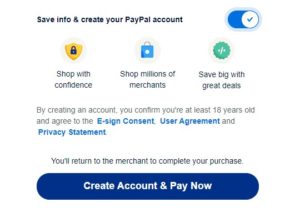 Enter your payment information.
Uncheck the small blue button "Save info & create your PayPal account".
The large blue button changes from "create account" to "pay now as guest".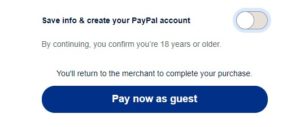 When the small blue-check button is unchecked, the larger button changes to "Pay now as guest"

Click this button to complete your payment for swim meet fees. The PayPal receipt is mailed to the address provided on the entry form; an entry confirmation is sent in a separate email.