Visit Ozark LMSC website for current meets in neighboring LMSCs near to Saint Louis.
Meet Entry
SLAM hosts the Ozark LMSC Short Course Yards Championship as a two-day meet in the spring approximately one month before the USMS SCY Nationals, and also hosts the single-day Ozark LMSC Short Course Meters Championship in the fall. Registration and payment will be online when meet entry opens.
---
See USMS Calendar of Events for all current meets near and far.
SLAM/Ozark LMSC Event Schedule
– 2022 Ozark LMSC SCY Championship
Saturday, March 26 at 2:00 pm and Sunday, March 27 at 9:30 am – Marquette High School Pool, Chesterfield, MO
Details coming soon
SLAM encourages members to swim on relay teams.
SLAM Relays
All Saint Louis Area Masters Swimming relay team members must be registered with SLAM Club. Unattached members may not swim on relays. Most relay teams are deck entered, except at USMS National meets.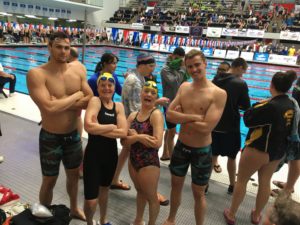 USMS National Events
Fitness Events
ePostal Championships
National Pool Championships
National Open Water Championships
Whether in the pool or out in the great wide open, there's an event for you! USMS offers Fitness Events, ePostal Championships, and National Championships in the pool and open water.